In the few moments it take a couple of deep, relaxing breaths you can anchor, focus and then send your spirits soaring with delight.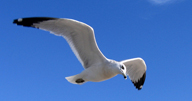 See yourself on a beautiful beach, hear the sound of waves breaking, smell the salt air.
Relax, wiggle your toes, feel sand beneath your feet, balance your body effortlessly upright.
Take a couple of deep, Breaking Wave Breaths™ to the sound of the breaking waves.
See yourself smiling and laughing in your mind's eye. Feel those feelings, take them on for yourself.
Feel light, relaxed, flexible, fluid, free to soar through the air.
Fill your heart and mind with happiness and delight and send
your spirit soaring with the sea gulls.
See HappinessHabit.com for more happiness insights.
Copyright © 2001-2007, Michele Moore. All Rights Reserved. This material may NOT be published, broadcast, distributed or rewritten without permission from the authors.
Tags: happiness habit, michele moore