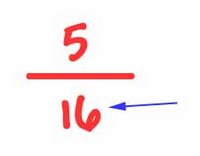 Doug Manning shares a wonderful insight into happiness in his posting today titled Denominator of Happiness at ProactiveLiving.BlogSpot.com –
He says developing your Denominator is the key to happiness…
"The denominator is the real secret to developing an enduring sense of happiness and fulfillment. You focus on defining and developing your whole self. What are your interests? What do you value? What are your passions? What is your unique style? Where in the world can you be who you are?"
"These are the questions that give shape to defining a quality life. In the denominator world, quality is better than quantity, every denominator is unique, and the quickest way to get everything you want is to want exactly what you have."
What a great approach! So much depends upon perceptions. People with much materially can still feel poor, especially if they are over extended financially. Other people who seem to have comparatively little can feel very rich and appreciative of all they do have.
We found the biggest barrier to happiness is the Fault Finding Feel Goods, all those terribly temping tendencies to judge, criticize and blame. A great happiness habit is to avoid all unnecessary, non-productive negativity. If the negativity doesn't help you or protect you in some way, reject it.
If the negativity does actually help you, turn it into a series of positive action items to help you build your happiness and success. Hope this helps!
See HappinessHabit.com for more happiness insights.
Copyright 1999-    ,  Michele Moore. All Rights Reserved. Reprints.
Tags: happiness, happiness habit, michele moore