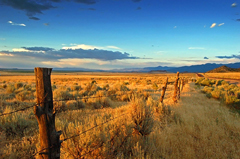 "The highest and greatest of the human freedoms is to choose your attitude in any given set of circumstances, to choose one's own way."
~ Viktor Frankl, "Man's Search for Meaning"
The concept of Spiritual Freedom grew from Viktor Frankl's incredible accounts of how some men triumphed emotionally and spiritually over the most horrific circumstances, Auschwitz.
"Man can preserve a vestige of spiritual freedom, of independence of mind, even in such terrible conditions of psychic and physical distress."
Each inmate ultimately chose whether to succumb to prison camp mentality and become a mere product of their environment and experience or to try to triumph spiritually and be something more, better and different.
"Fundamentally, therefore, any man can, even under such circumstances, decide what shall become of him – mentally and spiritually. He may retain his human dignity even in a concentration camp."
Frankl describes how some men went about comforting and aiding their fellow prisoners while others succumbed to the most selfish, basest motivations and desires.
Frankl illustrates a key aspect of the Happiness Habit :
"If we don't consciously decide what sort of person we want to be and  then work to become that person, our environment and our experience determine both our identity and our destiny for us."
Beyond the barbed wires in life, there is always a wide expanse of opportunity, spiritual freedom and emotional independence that frees us from being dominated and controlled by our circumstances.
We can decide what sort of person we want to be and work to become that person.  We can decide to practice being our best selves all of the time and and continually try to do our best, feel our best and be our best all of the time. Our best will continue to get even better.
A key to happiness and spiritual success is to always look past the barbed wire!
See HappinessHabit.com for more happiness insights. Copyright 2007, Michele Moore.  All Rights Reserved.  Reprints.  Michele Moore is author of How To Live A Happy Life – 101 Ways To Be Happier.
Tags: happiness, happiness habit, happy, happy life, michele moore, spiritual freedom