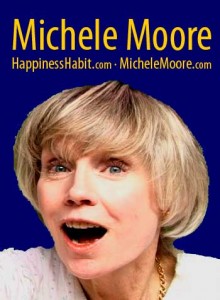 We've not been silent the past few months!
HappinessHabit.com
has expanded and embraced and exciting new scope and look!
We'll be emphasizing Happiness In Hard Times – How To Be Happy When Times Are Tough & Help Others To Be Happy Too in coming months.
See new postings:
Breaking Blocks To Learning
on
Happiness Habits For Families
and
Seven Steps to Seeing Communications Clearly
and the
Power of Truth
on
Fight With Finesse.
Explore HappinessHabit.com to expand and enhance your happiness!
Copyright © 2008, Michele Moore.  All Rights Reserved. This material may NOT be published, broadcast, distributed or rewritten without permission from the authors.
Tags: happiness habit, happiness secret, happy life, happy people, michele moore