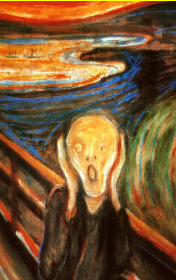 When you are feeling overwhelmed and over powered by all the things you have to do, how can you stay sane, focused, balanced, confident, effective and happy?
Break Important Tasks Down Into Small, Specific Steps or Sections That Are Easy To Visualize And Achieve During A Short, Definite Period of Time.
Work As Hard As You Can, Complete That Step. Stop And Celebrate Success.

Assess your progress in terms of your larger goals and the time you have to attain them.  Decide what to do next and how long you will spend on it.
Work as hard as you can, complete that step, stop, celebrate success, assess your progress and plan your next steps.
Great Achievements Are Built Through A Series of Very Small, Specific, Successful Steps. 
If You Still Feel Overwhelmed, Break The Step Down Into Even Smaller, Shorter, Easy To Visualize And Achieve Steps or Actions.

Working Hard Is Energizing And Empowering – It Incites A Delight And Drive To Get Things Done. Urgency creates energy, determination, drive, decisiveness and focus.  See work as an exciting series of successful achievements leading to valued goals, not a dreadful burden.
If You Can't Face Getting Up And Moving – Take a couple of long, slow deep breaths.  With each deep breath, feel energy coming into your body and radiating outward with each exhale.  Smile confidently.  Swing your legs around, take another deep, energizing breath, stand up confidently and smile.
Ask yourself, What Are You Going To Explore, Enjoy & Experience?  What Are You Going To Appreciate & Achieve?  What Are You Going To Accomplish So You Feel Good At The End Of The Day?
Priorities Are Key.  Identify What Is Truly Most Important And Work On That Task. Don't get distracted by busy work that allows you to avoid addressing important goals.
Planning Previews Success – Think carefully about what you want to achieve and the time and resources you have to accomplish it. Planning is a preview of your success. 
Make Planning Previews Part Of Your Project's Process.
Avoid The Fault Finding Feel Goods, Turn Negative Judgments Into Positive Actions and Avoid All UnNecessary, NonProductive Negativity.
You Will Feel Much Better And More Confident.
Copyright 1999-     , Michele Moore. All Rights Reserved. Links to our website and pages are welcomed! Please note our materials may NOT be published, broadcast, redistributed or rewritten without written permission from the authors.  Explore HappinessHabit.com for more happiness quotes and insights.
Tags: happiness habit, happiness secrets, happy life, happy people, michele moore