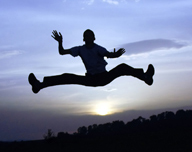 We are at our best and able to perform our best when we are Up, energized, enthusiastic and happy.
Habitually Happy People try to have a good time all of the time. They know this is the best way to perform well.
Summoning up energy, enthusiasm and determination to complete tasks well is just as important as defining good plans.
Decide what you are going to do and find ways to make work enjoyable, rewarding and meaningful.  Fuel your life and your work with fun.  When you make work fun you never have to toil again.
Loving your work, taking pride in what you do and finding ways to make it fun and fulfilling makes work flow effectively and efficiently.
"Ridiculous" cry critics, "You can't expect to have fun and a good time all of the time!"
"I can!"  Habitually Happy people reply, or "I can try."  "With an attitude like that you'll never be truly happy!"
Habitually Happy People try to get the most from every moment, they try to have a good time all of the time.   Because they try to find ways to enjoy life and work, they generally do.
They don't allow themselves to waste time in self pity or in making their own misery.  "Time spent in a down mood is time wasted" one happy person commented.
"You can choose your mood and attitude," another happy person said, "I choose to try to be happy and feel good almost all of the time."
They creatively reinvent tasks to make them fun, challenging and rewarding. They don't tolerate down, distressed or dismal moods for long.
You Never Feel Better By Focusing On How Badly You Feel.
Explore, Enjoy And Employ Skills And Strategies Used By Habitually Happy People And Become Happier Yourself.
Make Happiness YOUR Habit!
Copyright 1999-     , Michele Moore. All Rights Reserved. Links to our website and pages are welcomed! Please note our materials may NOT be published, broadcast, redistributed or rewritten without written permission from the authors.  Explore HappinessHabit.com and HappinessBlog.com for more happiness insights.
Tags: happiness habits, happiness secrets, happy life, happy people, michele moore