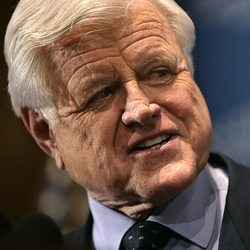 Lives of great leaders inspire, excite and challenge us to live better, happier, more fulfilling lives ourselves.
Relish opportunities to explore and appreciate their gifts, resolve to acquire some of their skills or strengths for yourself.
Ted Kennedy's exuberant enthusiasm for life, his dedication to doing exceptional work and determination to put aside differences to achieve worthwhile goals earned him exceptional respect, admiration and trust.
His spiritual strengths epitomize and exemplify many key Happiness Habits:
Exuberant Enthusiasm for life and for all the opportunities each day offers.
Compassionate Caring for All People, especially the weak, powerless and disenfranchised.
Fierce Independence and willingness to fight for their beliefs against prevailing opposing opinions.
Fearless & Passionate Expression of their Convictions without reserved reticence.
Learning Something New Each Day to turn life into an exciting adventure fueled by eager exploration.
Determination To Do Their Very Best Work drawing on all available resources to achieve their very best.
Fueling Their Life and Work With Fun, expressing genuine delight in everything they do.
Having A Good Time All The Time knowing it's the best way to get help and support from others.
Making the Most of Every Moment knowing life is entirely too short.
What inspiration do you find in the lives of a great leader?
What makes them so successful and exceptional?
What new qualities do they inspire you to emulate, embrace and acquire?
Copyright 1999-     , Michele Moore. All Rights Reserved. Links to our website and pages are welcomed! Please note our materials may NOT be published, broadcast, redistributed or rewritten without written permission from the authors.  Explore HappinessHabit.com and HappinessBlog.com for more happiness insights.