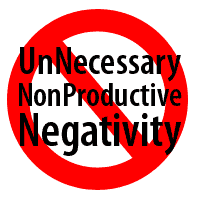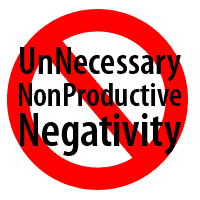 Huge increases in happiness come from simply deciding to avoid all unnecessary, non-productive negativity.
If the negativity is unnecessary and non-productive, resolve to avoid it.
Don't give it your time and attention. Don't repeatedly replay it in your mind.
Let it go.  Focus on positive, productive activities and aspirations.
Sometimes you cannot physically escape.  A boss, parent, loved one or authority figure may have the power to keep you there.
Listen, learn all you can but decide to be unaffected. Don't give them the power to hurt you.
Smile, nod very nicely in bobble headed agreement while your thoughts and attention are focused on positive and productive activities far away.
Avoiding The Fault Finding Feel Goods and All UnNecessary, Non-Productive Negativity are powerful prescriptions for happiness and spiritual well being.
Copyright 1999-     , Michele Moore. All Rights Reserved. Links to our website and pages are welcomed! Please note our materials may NOT be published, broadcast, redistributed or rewritten without written permission from the authors.  Explore HappinessHabit.com and HappinessBlog.com for more happiness insights