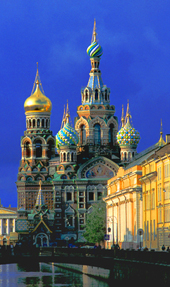 Should Happiness Be Pursued? Or does happiness flow best and naturally just from a life well lived?
See Happiness Without Pursuit
Mark Teeter 3/17/07 St. Petersburg Times

One of my grandfathers pursued happiness and the other did not. The first tried a dozen disparate jobs but found only modest success and fleeting satisfaction.
The non-pursuer — a rare combination of journalist, historian and Methodist minister — did all three for their own sake and that of others, and did them very well. When he died, Time magazine titled his obituary "A Happy Man."
It's a wonderful article and analysis of happiness in Russia!
See HappinessHabit.com for more insights about how to live a happy life.
Copyright 1999-     , Michele Moore. All Rights Reserved. Reprints.
Tags: happiness, happiness habit, happiness pursuit, happy, michele moore, pursue happiness