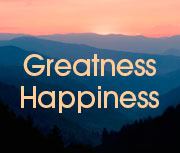 A Drive to Do Well and Excel Are Keys to both Happiness and Greatness!
Habitually happy people want to do their best, feel their best, be their best all the time.
They also continually and creatively look for ways to make their best even better.
This is the same mindset described as the keys to Greatness by Fortune Magazine.
The article discusses recent studies of people who have excelled in their sport or profession, examining what it takes to be great.
The good news is… greatness in a skill, sport or profession does not come from natural talents or gifts. Greatness is open to any and all of us.
Greatness comes from rugged, rigorous hard work and a determined drive and desire to continually improve our skills.
The same principles hold true for happiness.  By continually and creatively finding ways to live more happily and successfully, we can grow our happiness and spiritual success.
For more insights and happiness resources see  HappinessHabit.com 
Copyright © 1999-    , Michele Moore. All Rights Reserved. This material may NOT be published, broadcast, distributed or rewritten without permission from the authors.
Tags: greatness, habitually happy, happiness, happiness habit, happy, happy life, happy people, michele moore