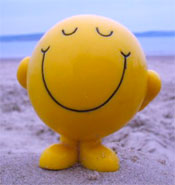 We all know a few special people who always seem to be truly UP, energized and happy. They light up a room and our lives with their presence.
They seem to be having a good time all of the time and continually radiate genuine joy.
They are very loving people. They love life, they love what they do and they love the people around them, they love themselves.
They live without prejudices and embrace the entire world eagerly.
They have high integrity.  We trust, admire and respect them.
They are good decision makers and leaders.
They are high achievers who love creative challenges.
They always enthusiastically try to do their best, be their best and encourage others to be their best too.
They refuse to let difficulties or problems distress or bother them.
When they are down, it never seems to last for long.
Enthusiasm, Energy, Achievement, Integrity, Happiness and Joy Characterize Their Lives.
You know some of these special people.  They are not the most prominent or powerful people we know but they certainly are the happiest.  We may wish we knew how to be more like them.
Happiness Habit interviewed and studied Habitually Happy, genuinely joyous people from all different walks of life and life situations.  We identified the key Values, Beliefs, Habits, Ideals and Boundaries characteristic of happy thought.  We call these special qualities Happiness Habits.
If you choose to adopt and practice Happiness Habits, you too will become happy or happier despite what is happening to you and around you.
Explore and Enjoy HappinessHabit.com, HappinessBlog.com and HappinessInHardTimes.com Comment on our postings.  Share your thoughts and insights.
Wishing you great happiness and spiritual success,
Michele Moore and the Happiness Habit® Team
Copyright 1999-     , Michele Moore. All Rights Reserved. Links to our website and pages are welcomed! Please note our materials may NOT be published, broadcast, redistributed or rewritten without written permission from the authors.  Explore HappinessHabit.com and HappinessBlog.com for more happiness insights.
Tags: habitually happy, happiness habit, happiness secrets, happy life, happy people, michele moore