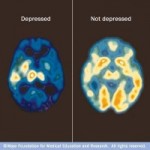 We all get them from time to time, those dreadful, dismal, dragging, despondent feelings.
What causes the Dismal Downers and what can we do to defeat or deter them?
Photographs showing differences in brain activity when people are depressed – like this from  the Mayo Clinic – may be familiar.

Reduced Brian Activity Is Associated With Depression. One of the keys to raising our spirits and defeating depression is to find ways to stimulate our brain activity.
Exercise –  Many research studies show that regular rigorous exercise improves brain function and brightens people's moods. This may be tied to improvements in the supply of blood flow to the brain.
Our brains represent about 2% of our body mass, but they consume about 25% of our body's supply of oxygen. Brain function declines when brain blood flow declines.  (Source: Massachusetts General Hospital "Mind, Mood & Memory" August, 2011)
Neural activity also stimulates blood flow to specific parts of the brain, but one's heart and circulatory system must be strong enough to support the necessary increased flows.
Music – Many people also find music helps brighten their moods – the music stimulates their brains and their bodies into greater activity.
Stimulants – Other types of stimulants like alcohol, drugs or caffeine may produce the same effects but with negative consequences. They briefly raise blood pressure, alertness and mental activity but they also set us up for a reactive downer when the effects of the stimulants pass.
We can achieve many of the same things naturally without these negative consequences. This is why a brisk walk can do so much to brighten our mood and increase our mental  alertness.
We can avoid overeating and dairy products and starches that make many people sleepy and slow.
We can choose to stimulate our own minds with lots of challenging, interesting thoughts. People who continually love to learn or acquire new skills or languages are found to retain their mental acuity into old age.
Habitually Happy people continually stimulate their minds with a constant stream of interesting, exciting, creative thoughts and mental activity. They think boredom is an inability to entertain ourselves when our environmental stimulation is low.
The Best Stimulation of All Is Happiness, Fun and a Good Time. Habitually Happy People Try To Have A Good Time All of The Time. 
Why Not Try It, It's A Great, Fun Way To Brighten Your Mood, Defeat The Dismal Downers and Sharpen Your Mind!
Copyright 1999- , Michele Moore. All Rights Reserved. Explore HappinessHabit.com and Creating-Happiness.com for more happiness quotes. Our materials may NOT be published, broadcast, redistributed or rewritten without written permission from the authors.
Tags: create happiness, create happy, creating happiness, creating happy, happiness habit