More About Happiness Blog
The Happiness Blog shares powerful new happiness insights that helps people live happier, more spiritually successful lives.
It extends and enhances our Happiness Habit web site and allows readers to comment and post thoughts and questions.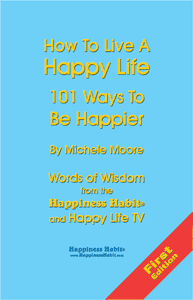 It explains and amplifies many of the key concepts from How To Live A Happy Life – 101 Ways To Be Happier
We believe there are simple, eternal, universal principles that lead to happy, spiritually successful lives.  We call these principles Happiness Habits.
Learn the Mental Laws of Happiness and the Values, Beliefs, Ideals and Boundaries that lead to happiness and spiritual success.
Understand how Habitually Happy people think, feel, act and react to the world and why it works so well.
Based on proprietary research and studies of habitually happy people, Happiness Habit® principles help people understand how be happier and more spiritually successful.
Acquire Happiness Habits and you will be happier too.
Make Happiness YOUR Habit!
Wishing you great happiness,
Michele Moore and the
Happiness Habit Team