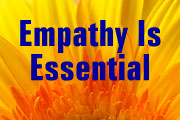 Empathy Is Essential To Happiness
Empathy means we can sympathize and identify with other people's pain,
situations and feelings.
Empathy is the core of compassion.
Empathy means we care about others, that we have concern for  their welfare and well-being.
Habitually happy people characteristically exhibit abundant love and empathy. They genuinely care about people and the world around them. Love truly does propel happiness.
The More We Love, The Greater Our Happiness. Where there is no love, there is no happiness.
The empty, apathetic angst that characterizes the affluent and arrogant amplifies this truth.
People who place themselves above and apart from the rest of the world rarely experience the love, happiness or joy that flows so easily to people who eagerly embrace the entire world.
Evil people may love, but their love is limited and conditional.
The Best Way To Prosper Is To Help Others Prosper.
The Best Way To Be Loved Is To Love.
The Best Way To Be Happy Is To
Delight In Helping Others To Be Happy,
Especially Those Who Are Less Fortunate Than You!
For more Happiness Habits see HappinessHabit.com
Copyright © 1999-    , Michele Moore. All Rights Reserved. This material may NOT be published, broadcast, distributed or rewritten without permission from the authors.
Tags: empathy, happiness, happiness habit, happy, love, michele moore